Shake and Share Media Featured at Magazine Release Party
New Still Video Booth is a Highlight at Sophisticated Weddings 2019 Release Party
Every year, the spring release party for the newest issue of Sophisticated Weddings is one of our most anticipated events of the season. It's such a magnificent gathering of New York City's greatest wedding planners and professionals! First, we're able to showcase our latest and greatest products for the upcoming wedding season to a multitude of interested clients. But more importantly, our team is able to connect and network with the leaders of New York's wedding industry!
This year the party was hosted at Capitale, the impressive former Bowery Savings Bank, in downtown Manhattan. The architecturally astounding venue was decorated in glittering silver and gold accents on a black and white canvas. Aerialists and chandelier-adorned models form Aerial Artistry embellished the room while music from 45 Riots and Chevy Chevis reached to the vaulted ceilings! Guests sipped on Bellissima Prosecco and snacked on Le Maison du Macoron while admiring stunning bridal gowns from Kleinfeld Bridal and Bridal Reflections. And, spotlighted in the VIP section of the venue, Shake and Share Media was capturing the moment!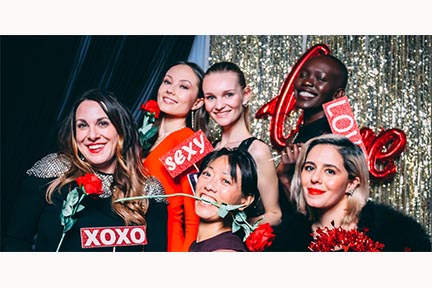 For this major promotion, we decided to use our newest innovation, the Still Video booth. With this photo service, visitors would walk away with digital copies, prints, and an animated video of their image that our on-site editor creates instantly! Our backdrop drew inspiration from both the elegant bridal theme and the upcoming holiday of love (i.e. Valentine's Day). Using a mix of textures and colors, we created an eye-catching color block of shimmering gold and sheer black. In addition, guests could either glam up or get silly with an array of custom props and fun signage. Obviously this writer is a little biased, but, with a line reaching past the bar for the entire evening, I'd say Shake and Share Media was the hit of the party!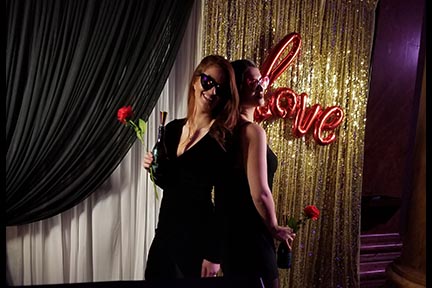 Walking away from the Sophisticated Weddings release party, our team is enthusiastic and ready for the upcoming wedding season! And we looked forward to seeing all of the new connections we made at events throughout 2019! Until next year, CAPTURE THE MOMENT.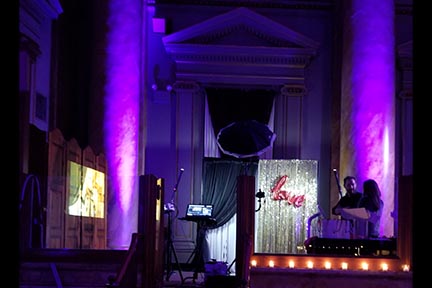 Some of the other awesome vendors featured at the release party were:
HITECH Events
High Style Rentals
RK Bridal
Nicholson Events, Inc.
Soulsystem Orchestras
Glazed and Confused
Cupa Cabana
Madison Lee Cakes
Norther Valley Affairs
City Sweets NYC
Designer Loft Bridal
My Daughter's Cakes
Bridal Gal
Alpine Creative Groups (Invites)
LCG Cigars